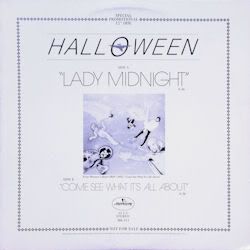 Picked this one up in Toronto a few weeks ago. Credited to a group calling itself
Halloween
, I don't think anyone could expect anything other than a throwaway disco novelty, yet this turned out to be surprisingly solid..
Written and produced by one-time
Motown
staff producer
Jerry Marcellino
, who with
Mel Larson
had worked on
The
Jackson
Five's
later albums and most of
Michael Jackson
's
early
solo
records
; aside from the name, the Halloween novelty here is actually fairly subtle. With verses littered with lines about "
midnight ladies dressed in black
," "
partying under the full moon
," and "
spinning magic spells
," that's about as close as it gets on here..
Halloween - Lady Midnight (1979, Mercury/PolyGram)
Halloween - Come See What It's All About (1979, Mercury/PolyGram)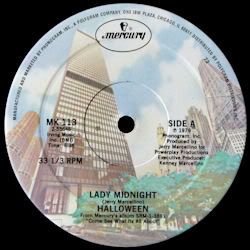 That being said, the solid grooves and production on here more than made up for the obvious lack of laughing vampires and screaming disco chicks. The A-side "
Lady Midnight
," opening with the sort of synthy disco pulses that always win me over and plenty of guitar action all over the breaks would have to be the choice track for me here. The bass-heavy, mid-tempo disco groove of "
Come See What It's All About
" is no less worthy though.
As stated on the single cover, both tracks here came off of the album "
Come See What It's All About
" (1979, Mercury/PolyGram), which at the time of this writing, has yet to be listed on Discogs. One that I'll be on the lookout for though..
PREVIOUS RELATED ENTRIES:
R.I.P. MICHAEL JACKSON
(FRIDAY JUNE 26, 2009)
DISCO DELIVERY #57: NOCTURNA (ORIGINAL MOTION PICTURE SOUNDTRACK) (1979, MCA)
(FRIDAY OCTOBER 31, 2008)
DISCO DELIVERY #47: HOT BLOOD - DISCO DRACULA (1977, DYNAMO)
(WEDNESDAY OCTOBER 31, 2007)
I WANNA SUCK YOUR.. OOOOH!
(TUESDAY OCTOBER 31, 2006)
LINKS:
DISCOGS: HALLOWEEN
ALL MUSIC GUIDE: HALLOWEEN - COME SEE WHAT IT'S ALL ABOUT LP
ALL MUSIC GUIDE: JERRY MARCELLINO
DISCOGS: JERRY MARCELLINO
VEGAS COMMUNITY ONLINE - JERRY MARCELLINO
CATEGORIES:
MINI DELIVERIES