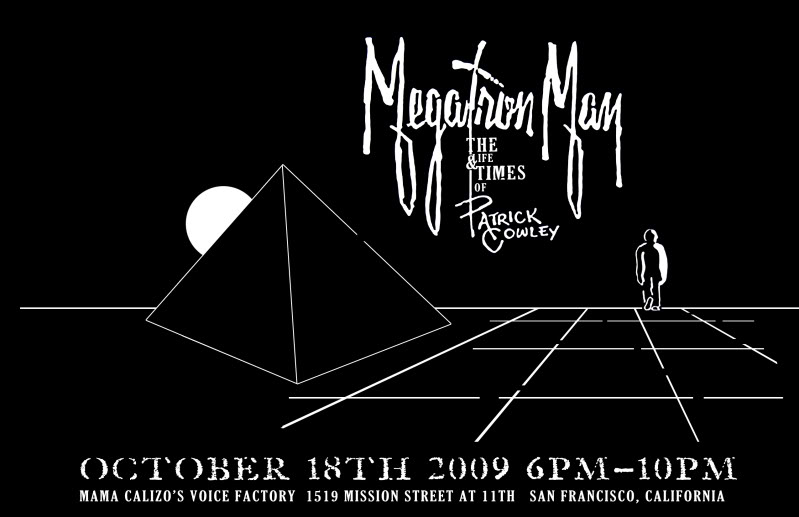 Got the email on this a little while back, but for those who haven't heard yet, coinciding with the release of
Patrick Cowley
&
Jorge Soccaras
' long lost "
Catholic
" project, San Francisco's
Honey Soundsystem
and
Mama Calizo's Voice Factory
are putting together a wonderful memorial event and exhibition for Patrick Cowley, to be held in San Francisco on October 18th (on what would have been the eve of his 59th birthday). As part of the event, there will also be an ongoing exhibition, a "living altar" of sorts, with artifacts, interviews and multimedia installations about his life and work to be held until November 19th. The organizers are hosting an open call for Cowley-inspired/related works from fans, friends and colleagues. They've set up a website at
www.megatronman.com
with more details and contact info. Wish I could be there for this..
On October 18th, 2009, Honey Soundsystem and Mama Calizo's Voice Factory will host Megatron Man: The Life and Times of Patrick Cowley an early evening event celebrating the life of a musician who we have bonded over and has influenced us on various levels including our sound, aesthetics and cultural upbringing in San Francisco. Often credited as the American Giorgio Moroder, Patrick's legend has become a symbol for a time when free love and technology would come together to forever change the social landscape. On this evening we come together to celebrate the journey and genius of Patrick to appease all the disco spirits of so many like him who fell victim to the AIDS crisis during the early 80's. An exhibition of never before seen artifacts, interviews, multimedia installations along with an open call for submissions that has generated responses from artists, music enthusiasts, and old friends and colleagues from all over the world. Those in attendance of the event are encouraged to bring their own offerings to what will be a living altar on the eve of what would be Patrick's 59th birthday. Directly following the exhibition will be a record release party down the street celebrating the worldwide premier of Catholic the "lost" Patrick Cowley/Jorge Socarras record finally seeing the light of day after 30 years via Macro Records.

Please join us in any way that you can to help celebrate our hero and our city by participating in either physical or inanimate form. The event will occur during the late afternoon at Mama Calizo's Voice Factory and feature various rarely seen artifacts from Patrick Cowley's days as well as video screenings and keynote speakers who were well acquainted with the man of the hour giving revealing insights about his life's murky history and a glimpse of San Francisco in the early 80s.

Finally, we will be hosting an open call of submissions for Cowley inspired works from fans all over the world to create a living and breathing exhibit that showcases the past, present and future of Patrick's influence. As far as content you can send us what ever medium you are comfortable with be it musical, graphical or textual. Even better, if you have old photographs, letters or anything else relaying the spirit of Patrick--send those in, we'll gladly accept digital copies as well.

If you simply want to just say a few words about how Patrick has inspired you, an anecdote or memory, or some other small gesture, simply email it to us and it will be printed and posted amongst the exhibition.

All submissions will find a home within the memorial no matter how big or small so please do not hesitate to participate and spread the word. Contact/more info at www.megatronman.com

*Please have all submissions to us by October 16th or you can bring them in person on the day of the event if you'd like.
In other "Catholic" news,
D*ruffalo
recently posted
some of Patrick's original gear
(tracked down by the Honey Soundsystem boys) as well as some info about the
second 12"
from the project, "
Burn Brighter Flame
" with mixes from
Oni Ayhun
and
Morgan Geist
. Recently,
Jorge Soccaras was on WFMU radio
, in conversation with
Daniel Blumin
, where they played selections from Catholic along with some other favourites. Part-way through they also play some thus far unreleased Patrick Cowley instrumentals on the program, which are a definite must-hear for Cowley fans (
Patchwork Symphony - Section 3
says it all).
PREVIOUS RELATED ENTRIES:
DO YOU LOVE YOUR ROBOT CHILDREN?
(TUESDAY AUGUST 4, 2009)
DISCO DELIVERY #50: BRENDA MITCHELL - DON'T YOU KNOW (1978, BARCLAY/POLYGRAM)
(SATURDAY JANUARY 12, 2008)
LAST CALL!
(SUNDAY NOVEMBER 26, 2006)
DISCO DELIVERY #7: SYLVESTER - M-1015 (1984, MEGATONE)
(FRIDAY FEBRUARY 17, 2006)
LINKS:
MEGATRON MAN - THE LIFE AND TIMES OF PATRICK COWLEY
D*RUFFALO - THE DAILY MAGAZINE FOR EXCESS CULTURE: THE PROPHETS
(SEPTEMBER 17, 2009)
WFMU - PLAYLIST FOR DANIEL BLUMIN (WITH GUEST JORGE SOCARRAS)
(SUNDAY OCTOBER 4, 2009)
WORLDANDSOUND: PATRICK COWLEY & JORGE SOCARRAS - BURN BRIGHTER FLAME (ONI AYGHUN & MORGAN GEIST VERSIONS)
MAMA CALIZO'S VOICE FACTORY
MYSPACE: PATRICK COWLEY & JORGE SOCARRAS
MACRO RECORDINGS
PATRICK COWLEY TRIBUTE
RESIDENT ADVISOR NEWS: MACRO GET CATHOLIC (INTERVIEW WITH STEFAN GOLDMANN)
(MONDAY JUNE 1, 2009)
DISCOGS: PATRICK COWLEY
DISCOGS: JORGE SOCARRAS
MYSPACE: JORGE SOCARRAS
HONEY SOUNDSYSTEM
MYSPACE: HONEY SOUNDSYSTEM
CATEGORIES:
IN MEMORIAM..
,
DISCO NEWS