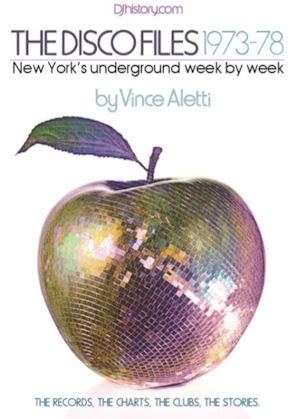 UPDATE (02/10/09): Pre-order information added.
Disco nerds take note.
The primo disco archivists at
DJHistory
are on the verge of releasing their first book under the djhistory.com banner (the first of many more apparently), a 500 page volume of writer
Vince Aletti
's "
Disco Files
" columns for
Record World
magazine.
The Disco Files were evidently inspired by a
limited edition 400 page collection
of Vince's Record World columns put together by artist and curator
Matthew Higgs
which accompanied an exhibition of Aletti's portrait collection entitled "
Male
" held last March at New York's
White Columns
and last summer at Vancouver's
Presentation House Gallery
.
Aletti's Record World columns evidently ran weekly and included Top Ten playlists from disco DJ's across the US (among them notable names like
Larry Levan
,
Lary Sanders
,
Walter Gibbons
,
Tee Scott
,
Nicky Siano
to name a few). The book will is set to include all of them plus other disco-related pieces he had written in the 1970's.
While Aletti would go on to become a senior editor at
The Village Voice
for nearly 20 years, and is currently the photography critic for
The New Yorker
, Aletti has a certain distinction in disco history for being the first writer to draw attention to the emerging disco phenomenon in the US in
an article he wrote for Rolling Stone in September 1973
. In the late 70's, Aletti would also go on to become the A&R man for
Ray Caviano
's
RFC Records
, the label which launched acts/artists like
Change
and
Gino Soccio
in the US.
Judging from the subject matter and the preview they've put up, it looks to be a pretty phenomenal project, not to mention one of the most substantial disco publications to come out in some time. Certainly one that I'm very excited for.
The release of book is set for April and
unfortunately isn't open for pre-orders yet
is now available for pre-orders
(with a nice little bonus included). In the meantime however, take a gander at
DJHistory's interview with the man himself
on their website and
their PDF preview of the book
, which looks every bit as detailed and exciting as it sounds.
LINKS:
JAHSONIC - VINCE ALETTI
WIKIPEDIA - VINCE ALETTI
DJHISTORY BLOG - THE DISCO FILES BY VINCE ALETTI
(THURSDAY JANUARY 29, 2009)
DJHISTORY INTERVIEW - VINCE ALETTI
THE VILLAGE VOICE - VINCE ALETTI
THE NEW YORKER - VINCE ALETTI
DJHISTORY FORUMS: VINCE ALETTI - DISCO FILE
WHITE COLUMNS : 'MALE' - WORK FROM THE COLLECTION OF VINCE ALETTI
PRESENTATION HOUSE GALLERY: 'MALE' - WORK FROM THE COLLECTION OF VINCE ALETTI
(PDF FILE)
CHRISTIAN SCIENCE MONITOR: DISCO MUSIC - WHAT WERE WE THINKING? (BY KIM CAMPBELL)
(FEBRUARY 18, 2005) (WITH QUOTES FROM VINCE ALETTI)
INTERVIEW MAGAZINE - COLLECTING THE MALE: INTERVIEW WITH VINCE ALETTI (BY ALEX GARTENFELD)
(DECEMBER 8. 2008)
STYLE.COM Q&A: VINCE ALETTI ON WIERD'S SCIENCE
(JANUARY 16, 2009)
CATEGORIES:
DISCO NEWS