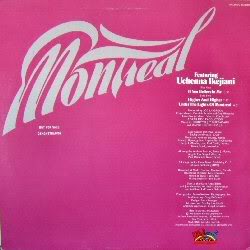 Montreal feat. Uchenna Ikejiani - Higher And Higher
Montreal feat. Uchenna Ikejiani - If You Believe In Me
Montreal feat. Uchenna Ikejiani - Under The Lights of Montreal
As promised earlier, some Canadian disco this time around..
One of the things that Montreal is well known for, then and now, is most probably it's vibrant nightlife and cultural scene. Even after the 1970s, when Montreal was surpassed by Toronto as Canada's largest business centre, culturally speaking Montreal was and still is in a class of it's own. The sheer amount and quality of disco records that came out of Montreal in the late '70s and early 80s was one significant indication of that. I don't have a specific number, but just going by my own digging experience, the number of disco records coming out of Montreal far outnumbered anything from anywhere else in Canada.. Just a list of some of the more prolific disco producers out of Montreal:
Michel Daigle
and
Dominic Sciscente
(
Black Light Orchestra
,
Alma Faye Brooks
);
Tony Green
(
France Joli
);
George Lagios
and
Pat Deserio
(
Bombers
,
Bob-A-Rela
);
George Cucuzzella
and
Peter Di Milo
(
Erotic Drum Band
,
Nightlife Unlimited
) and of course
Gino Soccio
and the husband/wife team of
Denis
and
Denyse LePage
behind
Lime
who need no introduction.. Another one to add to the list would have to be
Joe La Greca
, who helmed this project. La Greca would produce (or otherwise have his hand in) some pretty significant Montreal disco, like, for example
Kat Mandu
's "
The Break
," the
first Lime LP
and of course, a great deal of Carol Jiani's material. La Greca's collaboration with
Carol Jiani
began with this album with Carol featured under her real name,
Uchenna Ikejiani
. Recorded in 1978, but released the following year by
Salsoul
, evidently this LP was her very first recording and along with
MTL Express
(1978, Unidisc), one of the earliest La Greca productions I've come across..
This past November, Carol did a
webchat
of sorts on the discomusic.com forums, which yielded some interesting and often entertaining answers (the lady loved her booze!).. According to her answers on the webchat, she met Joe LaGreca while at Montreal's
Concordia University
, through a studio musician they both knew. When asked about any more specific memories/details regarding the making of this album, she replied:
ALL I REMEMBER FROM THE DAYS OF MONTREAL ALBUM WAS THE AMOUNT OF WINE AND CHAMPAGNE ETCC LOVED THOSE WILD DAYS WE ARE CALMER NOW
..which gave me a little chuckle. Sounds like she was a lot of fun back then..
Anyway, it also reminded me of a story I was told by a guy I was in contact with a few years back.. Unfortunately, I've since lost contact with him, but he was apparently a good friend of Carol's back in Montreal. I probably shouldn't tell this story, but anyway, the jist of it was that the woman on the cover was not Carol, but in fact, a model called in at the last minute.. Evidently Carol was scheduled, but unable to make the photo shoot. As for why.. well, let's just say it fits into a certain pattern developing here...
As far as the album itself goes, this one has to go down as one of my favourite Joe La Greca productions. Like most of the albums he was involved with, there was a real percussion-heavy style to it with this deep, dense drum on the bottom along with this flat, crashing, cascading drum sound layered right on top.. That flat, heavy crashing drum in particular seemed to be a trademark on many La Greca productions and that generally percussion-heavy style on other Montreal disco as well (ie. Erotic Drum Band). With that, there's also a certain stripped-down efficiency to the album's sound; all the tracks are started off and and anchored by this identical, sharp, choppy hi-hat sound along with those hypnotic, supple basslines (courtesy of
Serge LaMarche
). Granted, while that may have been the backbone, there are also a great deal of effects on the backup vocals as well as those striking, punctuated blasts of horn and/or synth in the mix. While putting all of that together may sound slick on paper, it didn't sound quite as such on record. Perhaps the prominence of that bass and hi-hat anchor, Jiani's simple yet effective vocals, or perhaps the bits of rock guitar and unadorned piano trills give it something of an unpolished, uncomplicated, stripped-down quality. Though given that Salsoul had an interest in the album, it may have had a bigger budget attached to it than some other Montreal disco albums of the time, yet that simple, efficient, rough-around-the-edges aesthetic is still very evident on the album, which also seems typical of quite a bit of Montreal disco. While perhaps necessitated by financial limitations, it's become something of a trademark and at least in this case, a rather refreshing one. When executed as it is on this album, it's not so much a detraction, but something which manages to give the record it's own exciting and engaging quality without being overly slick and polished..
Of the three tracks on the album (yes, only three), the first track which captured me was the Side Two opener, "
Higher and Higher
." Opening with that hypnotic hi-hat and bass along with those light, but loopy synths, this track just had an instantly captivating quality to it. That urgent vocal combined with that relentless bass which lures you in, backed by those horns keeping you hooked and finishing the job. Before you know it, you're half-way through the track and lost in the middle of some kind of musical labryinth where things really start to get trippy (check out those crazy, high-flying vocal effects). It's not so much an ecstatic, euphoric high that this track alludes to, but a darker, wilder, more mysterious and entrancing one. It's one of those tracks which draws a fine balance between the rhythmic and the electronic, with the bass and horns commanding your attention and those key, yet understated synth parts and vocal effects creating that soaring, trance-like atmosphere..
The big draw on the album, given it's length was likely "
If You Believe In Me
," with all thirteen minutes covering Side One. I have to say, I love the layered, spacious mix on this track, which has more breaks than you can shake a stick at. Much like "Higher and Higher," the track is carried by that hi-hat/bass combo, although with a much greater melodic emphasis particularly with that piano in the mix giving it a slightly lighter touch. A lighter touch in the beginning at least, before descending into an extended orgy of crashing drums and percussion; mad, menacing loopy synths and that aural haze of cooing, moaning, whooping vocals in the background. The whole track, especially in the second half, also has this inescapable tension between light, ordered melodic sanity and all-out rhythmic madness, with the track continually switching back and forth between the two. Slightly chaotic perhaps, but oddly captivating nonetheless.
With that though, if there's any track on the album that exemplified rhythmic madness, it's the last track, "
Under The Lights of Montreal
." Completely instrumental, it's the only track on the album not featuring Carol (AKA Uchenna) in any audible capacity. Much like the other tracks, the first half of the song is tempered by an understated piano keeping things rather light and pleasant before the second half. At that point, the drums break loose and the whole thing descends into this penetrating, unyielding, almost tribal dancefloor voodoo. The shortest track on the album, but perhaps the most intense.
As far as Carol's vocal is concerned, comparing it to her later records, her relative inexperience seems evident on here. Perhaps it was her youth, or that maybe she was half-in-the-bag while recording (kidding!). Whatever the case, let's just say at this point her voice hadn't yet grown into the full, husky and gutsy instrument that it would later become. If anything though, while the fullness wasn't there, there was still that certain unpretentious gutsiness to that mananged to be completely endearing and captivating at the same time, in spite of her limitations. If anything, it was not a voice that would be (or even could be) reduced to cooing breathily in the background. I suppose in that way it sort of reminds me of Madonna's early recordings. It's often said, especially with her first album, that what Madonna lacked in range and general vocal prowess she made up for in attitude and spunkiness. I'd say the same thing for Carol's voice on this album. While she would be capable much more depth and power than this album or that my Madonna comparison would indicate, on these recordings she definitely has that distinct personality to her voice which makes up the difference.
Regardless of that, a few years after this she would have her big breakthrough with "
Hit N' Run Lover
." It wasn't just a breakout hit for her, but the gift that kept on giving so to speak. Not only was it
remixed
for it's US release, but Carol herself has re-recorded it at least twice, most recently last year in 2006.
Evidently, Jiani would later leave Montreal for the UK, where she would work with
Ian Levine
on a few singles as well as re-record "
Hit N' Run Lover
" among other things. So far, her last full-length album was "
Superstar
" (1996, Popular/Lime, Inc.), which I believe was a Canadian-only release and reunion of sorts with the Montreal crew. In my opinion, that album was one fabulously hyper-produced euro-fied 1990's Ni-NRG effort, which I'll admit has become one of my most cherished guilty pleasures.. These days, based in London, Jiani has been on something of a comeback trail recently, with not only the
re-recording
of "Hit N' Run Lover," but evidently some
new recordings on the way
(covers mostly). Either way, it's good to hear a diva from back in the day releasing new material. Check her
Myspace
to hear one of the newest versions of "Hit N' Run Lover."
As far as LaGreca is concerned, I'm not sure what he's been up to lately, but one of the last things I've seen him credited on was the
Los del Mar
version of the infamous "
Macarena
," the cash-in copycat of the
Los del Rio
original, which will undoubtedly be a mainstay of '90s nostalgia in years to come (God help us)..
Although Joe La Greca is credited as the primary producer on this album, the album's co-producers,
Dominic Sciullo
and
Guy Rheaume
as well as it's mixers, the late
Bobby 'DJ' Guttadaro
(one of the first superstar DJs) and
David Rodriguez, Jr.
likely deserve a good deal of credit for the record's sound as well. Interestingly, after this album one of the co-producers, Dominic Sciullo along with this album's executive producer,
Vincent Ciambrone
would produce a record called "
Boogie People
" (1979, Magnum/GRT). Although that record isn't quite as good as this (at least in my opinion), it had a slightly similar sound and feel to this album, which seems to confirm their contribution to this LP. Given also, how influential the mixing process was for many disco records, the (most likely) Salsoul-appointed mixers Guttadaro and Rodriguez were probably responsible for giving the finished product a good bit of extra polish and focus as well..
Overall though, this record to me is one of the more significant documents of the Montreal disco sound, an early pairing of one of it's biggest producers with one of it's biggest singers. Certainly one of the more interesting albums to come out of Salsoul, and in it's own right, an excellent albeit brief document of some of the eclectic disco sounds that were coming out of Montreal during this time.
So far the only track off this album to make it to CD is "Higher and Higher," which was included in the recent compilation
Salsoul Presents Disco Trance and Cosmic Flavas
(2006, Salsoul/Suss'd)
I should also add: that Montreal logo on the album cover is so awesome, it ought to be on a t-shirt..
LINKS:
MONTREAL FEATURING UCHENNA IKEJIANI LP @ DISCOMUSIC.COM
MONTREAL FEATURING UCHENNA IKEJIANI LP @ DISCOGS
CAROL JIANI @ MYSPACE
CAROL JIANI'S OFFICIAL SITE
CAROL JIANI @ DISCOGS
CAROL JIANI @ DISCOMUSIC.COM
CAROL JIANI WEBCHAT (NOVEMBER 2006) @ DISCOMUSIC.COM FORUMS
CAROL JIANI (AKA UCHENNA IKEJIANI) @ DISCOMUSEUM
JOE LA GRECA @ DISCOMUSIC.COM
JOE LA GRECA @ DISCOGS
BOBBY ''DJ'' GUTTADARO @ DISCOGS
BOBBY ''DJ'' GUTTADARO @ DISCOMUSEUM.COM
PURCHASE:
SALSOUL PRESENTS DISCO TRANCE AND COSMIC FLAVAS (INCLUDES ''HIGHER AND HIGHER'') |
AMAZON.COM
|
DUSTYGROOVE.COM
PREVIOUS RELATED ENTRIES:
SUNSHINE ON MY MIND...
(JANUARY 7, 2007)
CATEGORIES:
DISCO DELIVERIES
,
CAN-CON DISCO
,
WHAT EVER HAPPENED TO..