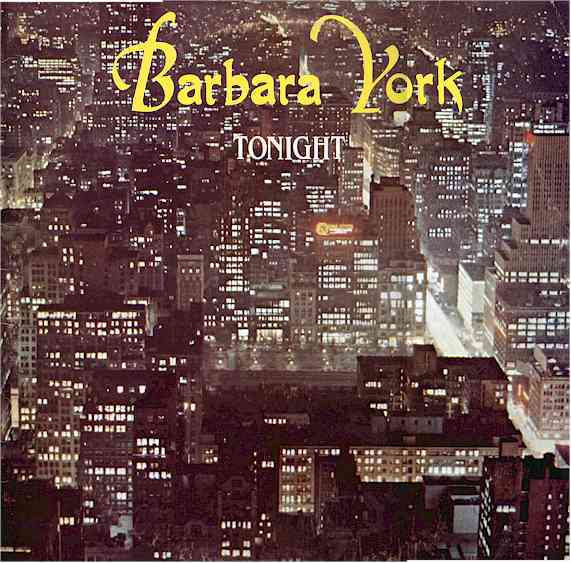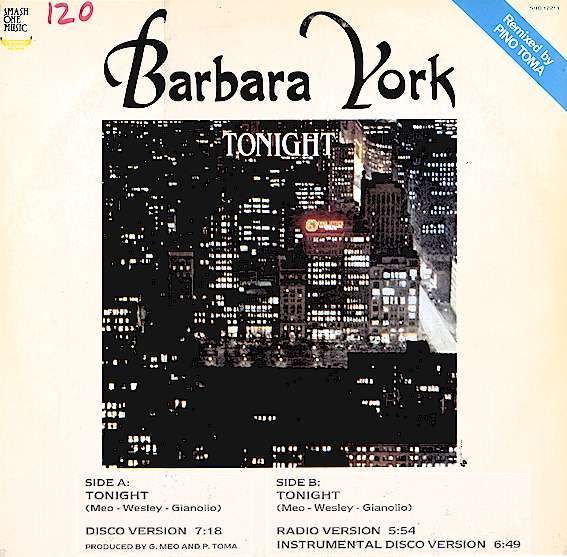 Barbara York - Tonight (1983, Smash One Music)
Note: FYI, this file has a much lower bitrate than what I usually post.
Although I've made exceptions in the past, I've had this rule for myself, especially when it comes to vinyl: to only post things that I actually have in my collection, as opposed to mp3s that I've downloaded or have been given. Although lately, after some of the great mp3s I've downloaded and that others have given me (like this one), I'll probably be breaking that rule more often now...
Anyway, on to the music...
Today's file is courtesy of a reader,
Wayne
, who very kindly sent me the file and cover scans to this delightful little slab of funky italo.. A great little record from '83, driven by that sharp, sleek guitar right up front, which along with those echoed vocal effects, just hook you instantly.. Additionally, that quintessentially 80's whistling synth along with
Barbara York
's (not her real name, I'm quite sure) vocal both work beautifully on this track. In this case, the singers' exceptionally full vocals more than made up for her thickly accented and at times incomprehensible English. It probably speaks to the fact that the singer on this record actually had some modicum of vocal talent, whatever the linguistic limitations.. Anyway, it hardly matters. It seems that was something common with many Italo-disco records (projects with American vocalists like
Change
excepted); if the record was musically strong, it didn't so much detract from it as much as add to the distinctive charm of the whole thing..
So maybe some might not agree with me calling this record 'funky', and okay, so it probably doesn't throw-down with some of the serious funksters out there; regardless of that though, there's a definite urbane, American aesthetic to this record. As far as Italo goes, it probably has more in common with the American influenced sound of
Change
or the
B.B. & Q Band
than say,
Ken Laszlo
,
Klein & M.B.O
,
Tantra
etc. I guess to put it more specifically, for me, "Tonight," sounds something like
Easy Going
meets
Change
, if you will.. It's probably no wonder, considering that this record was, along with
Pino Toma
, co-produced by
Giancarlo Meo
who, along with
Claudio Simonetti
, was also the producer behind
Easy Going
,
Kasso
,
Vivien Vee
etc.. Also, this track and a couple of the
earlier Barbara
York singles
were produced with not only Meo, but with people like
Davide Romani
and
Paolo Gianolio
(who co-wrote this track) in prominent roles. Romani and Gianolio, aside from writing or co-writing a great deal of the tracks off Change's awesome "
Glow Of Love
" and "
Miracles
" albums are also alleged, given their prominent roles, to have
deserved full production credit
alongside
Jacques Fred Petrus
and
Mauro Malavasi
on those records.
Anyway, to me Italo is definitely one of the most interesting fields of disco out there.. I've explored it in bits and pieces so far, but so far it's not exactly something I've really explored in a great deal of depth. So far though, one thing I love about Italo is how diverse it was in it's own right, often going from the sleek, American influenced variety (i.e. Change, B.B. & Q Band and other Petrus/Malavasi productions) to the electronic disco of Tantra,
Azoto
and to the irresistably melodic pop music of, say
Gazebo
to name one example.. Also, not to exclude the contributions of
Giorgio Moroder
and
La Bionda
either.. Generally speaking, another thing I love is that great, inescapable sense of melody that many Italian records I've come across seem to have. In a way that applies to a great deal of my favourite European pop music as well. As far as European pop goes though, I'd have to say that both the Italians and the Swedes seem to have the greatest melodic sensibility out there..
All that aside, hope some of you out there enjoy this one. Again, special thanks to Wayne for the file and the scans.
LINKS:
BARBARA YORK - TONIGHT 12'' @ DISCOGS
GIANCARLO MEO @ DISCOGS
GIANCARLO MEO @ WIKIPEDIA
FREESTYLE ROOTS: JACQUES FRED PETRUS & MAURO MALAVASI
PREVIOUS RELATED ENTRIES:
DISCO DELIVERY #17: TANTRA - MOTHER AFRICA (1981, UNIDISC)
(APRIL 29, 2006)
CATEGORIES:
MINI DELIVERIES