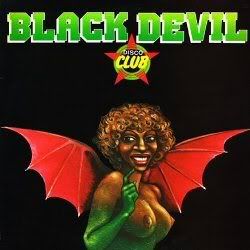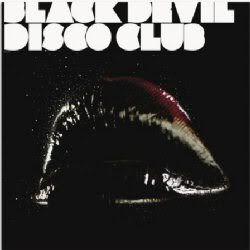 Black Devil Disco Club - Constantly No Respect (2006, Lo Recordings)
Black Devil - "H" Friend (1978, Out)
Black Devil - Timing, Forget The Timing (1978, Out)
For the last few years, I've been fascinated, like many others I'm sure, with the legendary cult
Black Devil
LP, "
Disco Club
" from 1978. Black Devil were
Bernard Fevre
and
Jacky Giordano
, two French
library musicians
who went under the aliases
Joachim Sherylee
and
Junior Claristidge
, respectively. An odd, experimental, and utterly fascinating electronic disco LP, evidently released only in Italy and in France, "Disco Club" was long confined to the dustbins of obscurity. Confined that is, until being rediscovered, years later, by
P.P. Roy
of
Rephlex Records
. It's obscurity and rediscovery are the stuff of collector legend, a classic example of the kind of "holy grail" mythology that never fails to generate interest.. Here's what one of the product descriptions say:
"Originally released on Out Records way back in 1978, Black Devil's "Disco Club" is an extremely rare disco masterpiece, an epic journey into the deepest electronic disco ... The record was discovered by Rephlex's own PP Roy for 20 pence at a car boot sale, and quickly found favour with friends Richard D. James and Luke Vibert. The record has received heavy road testing from Richard and Luke, and original copies are on the net for up to £200...

Keen as ever to share fantastic music, label co-founder Grant Wilson-Claridge has managed to secure the exclusive license for Rephlex, unwittingly beating Metro Area's Morgan Geist (a long time fan) to the snap!.... It was made manually in a recording studio in the suburbs of Paris using synths and occasional tape loops and a drummer: no midi or computers..."
Needless to say, this record is unlikely to go for less than $100 US now.. I'm not sure why Rephlex didn't just do a straight reissue of the whole thing, but somehow they, to paraphrase their
All Music Guide
overview, annoyingly reissued the LP in bits and pieces: a little on one 12" release, a little more on another 12'' and then the rest on a CD single.. Since they all come from one album to begin with, the obvious question would then be, why not just put the whole damn thing on a single CD already?
I can only guess, but perhaps being well aware of how lucrative it's rarity and all the mythology behind it can be (and has been) in generating interest, that may have been one reason for releasing it the way they did. Essentially, putting the music out there, while at the same time, not diminishing the attractive 'cult rarity' status of the original with a full reissue. I can only say that if that were the case, it has worked out brilliantly, even if it is frustrating for buyers/listeners to have to get multiple releases across different formats to have the whole thing. Although that probably didn't hurt either from the label's perspective..
Either way, the reissue and all the interest it generated evidently inspired Fevre (this time without Giordano - who seems to have more
pressing matters
to deal with) to pretty much pick up where he left off. Lo and behold, some 28 years later in 2006, a new record appears from Fevre, now under the guise
Black Devil Disco Club
, giving full reference to the cult record. Appropriately titled "
28 After
" (2006, Lo Recordings), it's probably one of my personal picks of 2006. Capturing the essence of the 1978 Disco Club LP, with it's rough, eerie, icy retro synthesized sounds, vocals processed into oblivion and smatterings of congas; the record also, in addition to it's continuity, has an unmistakably contemporary digital sheen to it. Admittedly, I'm not too well-versed in contemporary electronic music, yet to me, the combination of the two has resulted in a record that is completely distinctive, being neither of yesterday nor today, or like the original, neither "library" or typically disco but in something of a separate class altogether. While "28 After" definitely sounds more contemporary than it's predecessor, the fact that the sound bears such strong reference to and continuity with it's predecessor ultimately makes it, in a contemporary context, neither here nor there in a way. Not fashionably retro, yet not neatly contemporary either..
Given how closely the two Disco Club LPs follow in sound, yet how far apart they are in years, there are inevitable questions of whether "28 After" is really a new recording, or just unreleased stuff from the late '70s.. Again, perhaps aware of it's lucrative mystery, evidently, no one's telling. It appears that the same enigma surrounding the original LP and reissue is truly, as they say, the gift that keeps on giving... That said, I'm leaning towards them being new recordings. If they aren't new recordings, there had to have been either a great deal of remixing and/or additional production involved to have it sound the way it does. There are certain sounds and effects on this record which I don't even think were even possible in 1978, nor do I think this record would have sounded as clean as it does if it was mostly recorded some 30 years ago.
"
'H' Friend
" and "
Timing, Forget The Timing
," are, to me, the standouts on the original "Disco Club" album. Listen to the intro of "'H' Friend," with what certainly seems like a clear reference to
Giorgio Moroder
's "
From Here To Eternity
." While evidently inspired by the Moroder record, both tracks differ in that they have a noticeably darker, less polished, more abrasive quality than Moroder's work; like Moroder on acid if you will. On both records, the vocals are so processed in places, to the point where they resemble a kind of distant, menacing foghorn. That paired with their relentless, hypnotic pulse make a couple of records so striking and odd, you can't help but wonder what kind of madness had to be at work there.
If anything, it's definitely not your typical disco. As fascinating as it is listening to it, it's still hard to imagine your typical disco DJ playing it. Checking the comments on the album's
discomusic.com entry
though, evidently there was at least one DJ from back in the day who played it..
"..This is an amazing RE-discovery. . . I bought this at a DJ import store in New Orleans around 1979? or so. . .was always amazed that it got a floor in the first place. A fellow DJ was even cheeky enough to follow Alicia Bridges' "I Love The Nightlife" with this record (first song on Black Devil) uncharacteristically early in the evening and, much to my astonishment, kept 3/4 of the floor! I always played Black Devil (usually both sides back to back) for my "late crowd" who didn't necessarily need (or want) that 4-bumps-a-measure bass drum sound.

Lordy, I will have to look in my vinyl collection that's been sitting in outdoor storage for years and see what, if any, shape this piece of vinyl is in. I always thought it was at least 20 years ahead of its time. I have been vindicated!....

M. Durio
former DJ: Parade Disco, The Civic Disco, New Orleans; original DJ Cafe Lafitte's, heart of Boys' Town, French Quarter, NOLA ca. 1979-80.
Fast-forward to today.. The track off "28 After" that seems to be generating the most buzz is "
I Regret The Flower Power
," a dark, propulsively moody track buried in intriguing, hypnotic and ominous sounds along with a highly processed vocal and lyric, consisting of little more than "
I regret.. the flower.. power..... I regret.. this time of love..
" For sure one of the boldest tracks on the EP, however my personal pick would have to be the instrumental track "
Constantly No Respect
." Outlined by an almost hyper, hypnotic pulse, coloured with both an eerie processed humming and bold, sharp synth textures; it's a track which is both alluring and sublime yet icy and ominous at the same time. That said, out of all the tracks on the album those two are perhaps the most representative of the deep, dark depths of disco on the EP..
Given all the buzz surrounding the release and the enigma clouding it, it's bound to have it's detractors. And so it does, evidently
Tim DiGravina
of the All Music Guide isn't convinced. In his review of "28 After," he quips:
"File this one under 'That Dorky Joke Isn't Funny Anymore, Never Was.' 28 After is the purported sequel to French duo Black Devil's entirely non-mythic 2004 Rephlex debut. That effort was supposedly recorded in 1978 and not reissued until 28 years later (note: was actually reissued 26 years later in 2004), hence the pun title of this release. This time around, the music is credited to one fellow, Bernard Fevre, who was supposedly working under an alias previously. Lo Recordings likes to have fun with cutesy tricks and fabricated press releases, but in the end it all comes down to the quality of the music. And whether 28 After was recorded in the '70s or the early 2000s, this is amateurish stuff....

...'I Regret the Flower Power' isn't a lark, it's one of the most unintentionally absurd 'dark' dance tunes of all time. It makes the Blue Man Group sound credible and the Bloodhound Gang look like John Cage. Not energetic or dynamic for the dancefloor and not intelligent enough for headphone listening.... That it cropped up on numerous Best-of-2006 lists shows the success of the tricky press releases or just the gullibility of critics falling for indie cooler-than-thou hype.."
Needless to say. I don't agree with the review, but I can understand some of it's sentiments. The review seems to assume that the original "Disco Club" album was some kind of hoax or at the very least, a joke on hipsters and critics alike. At the time of it's reissue, before investigating it's background and with all the hype and the questionable release formats, I too had suspected it's authenticity (like many others, it seems). For all I knew, it could have been a retro-futuristic contemporary record masqueraded and promoted as an actual forgotten obscurity. One so obscure that it was known only by a choice few in certain elite circles, who all of the sudden were generously making it available for the rest of us to indulge in.. "
Now you too can find out what the Chemical Brothers have known about for years!...
" Given that, one couldn't help but detect a grain of truth in the whole "indie cooler-than-thou hype" argument. As much as that may have gained it an audience, it also seemed to make it a bit suspect, in my opinion.
That said, the more I find out, the more convinced I am of Black Devil's authenticity... Recently, Fevre has been doing
the
occasional
live
date
and more recently did a radio interview at
Radio Campus Paris
(interview is in French, so unfortunately I can't understand, not sure if it demystifies anything either), which seem to be slowly putting a face to the whole thing. Also, the fact that there is an actual copy of the 1978 album
on eBay right now
as well as cover and label scans on Discogs and
elsewhere
all to point to Black Devil and their '78 LP being completely genuine, so in that case the All Music Guide review is mistaken. Again, while I don't agree with the assessment, I can certainly understand the skepticism, especially with the hype and mystique surrounding it. The whole thing pretty much begs to be questioned/deconstructed. Typically, being a bit of a contrarian, I'm not usually one to buy into that sort of hype. I still have to say though, as distinctive as the latest project is and as obscure, innovative and ahead of it's time as it's predecessor was, there certainly seems to be more than enough there for both records to back up their hype and stand on their own, with or without the mystique factor.
Additionally, Fevre contributed to a curious LP called "
Spatial Disco 2005
" (1978, Atoll), which sounds intriguing to say the least.. Also,
Waxidermy
has audio from one of Fevre's earlier LPs called "
The Strange World of Bernard Fevre
" (1975, L'illustration Musicale) if anyone's interested..
LINKS:
BLACK DEVIL - DISCO CLUB LP @ DISCOMUSIC.COM
BLACK DEVIL - DISCO CLUB 2006 CD SINGLE (REVIEW) @ ALL MUSIC GUIDE
BLACK DEVIL - DISCO CLUB (ITALIAN LP) @ DISCOGS
BLACK DEVIL - DISCO CLUB (FRENCH LP) @ DISCOGS
ilXor - BLACK DEVIL - DISCO CLUB (1978) EP

DISCOGS FORUMS - LIBRARY MUSIC: BLACK DEVIL DISCO CLUB: 28 AFTER
BLACK DEVIL DISCO CLUB - 28 AFTER CD @ DISCOGS
BLACK DEVIL DISCO CLUB - 28 AFTER CD (REVIEW) @ ALL MUSIC GUIDE
MUSIC FOR ROBOTS: THE DEVIL'S MUSIC
WOEBOT: BEDROOM DISCO
ALMOST COOL MUSIC REVIEWS: BLACK DEVIL DISCO CLUB - 28 AFTER
BOOMKAT - BLACK DEVIL DISCO CLUB -28 AFTER
PITCHFORK MEDIA: BLACK DEVIL DISCO CLUB - 28 AFTER
GROOVES MAGAZINE: BLACK DEVIL DISCO CLUB - 28 AFTER
DISSENSUS - BLACK DEVIL DISCO CLUB

DISCOSTYLE.COM - LIBRARY DISCO
PHAT CORNER @ RADIO CAMPUS PARIS: BERNARD FEVRE INTERVIEW (EN FRANÇAIS)

PURCHASE:
BLACK DEVIL - DISCO CLUB (3 TRACK CD SINGLE) | CDUNIVERSE.COM | AMAZON.COM
BLACK DEVIL DISCO CLUB - 28 AFTER CD | CDUNIVERSE.COM | AMAZON.COM | AMAZON.CO.UK | AMAZON.FR | AMAZON.DE
CATEGORIES:
MINI DELIVERIES
,
NUDISCO
,
PAST REISSUES
,
WHAT EVER HAPPENED TO..