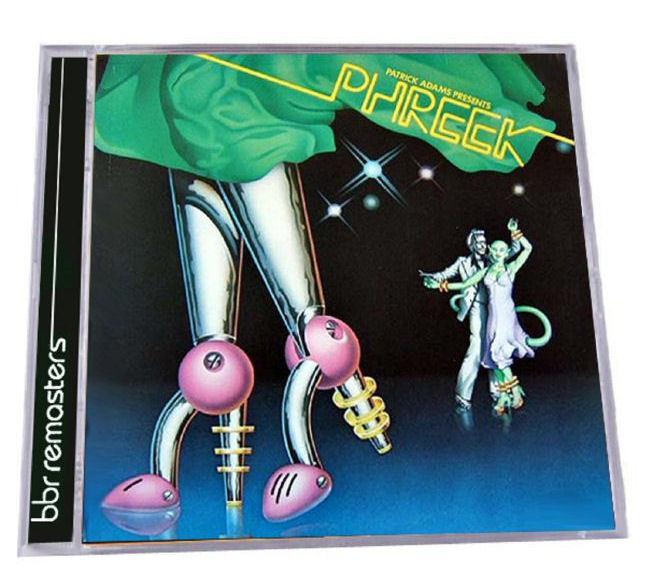 I'm sure many of the disco heads reading this were aware of the great
RBMA Larry Levan street party
in New York that happened nearly a month ago now, right outside the former Paradise Garage (in conjunction with the
Larry Levan Way initiative
). Covered heavily not only by
Red Bull Music Academy themselves
, but by
Rolling Stone
, the
New York Times
and the
Wall Street Journal
, it promised to be a landmark event not just for that weekend, but for the legacy of Larry and the Garage itself. Unfortunately, I wasn't able to be there, but watching the amazing livestream on their website (which unfortunately is not archived - though at least
now the audio is
), I have to say for those of us, like myself, who weren't around to experience it in its day, or for those who may not have completely understood the draw of the Garage, it was a chance to really witness the power of its legacy and what it meant to the people who were a part of it (and to those who weren't). To see not just the Garage veterans, but generations of people - gay, straight, black, white (and beyond) - dancing together in that kind of joy (under clear sunny skies, no less) it was a truly beautiful thing to witness. Even if it did have to end earlier than planned (on account of crowd concerns from the police - some 20 thousand people in attendance, a number of them stuck in the lineups to get in), from most accounts, RBMA managed to pull off a truly special event that everyone could be proud of..
With all that happening, I suppose it was kind of timely that my promo copies of
this reissue (which had come out in February)
arrived in the mail just a few days before. Perhaps best known for "
Weekend
," which by many accounts, had been one of the biggest Paradise Garage anthems (and which of course was
played at the recent street party
),
Patrick Adams Presents Phreek
had long been one of my favourite disco albums and when the opportunity presented itself, I pretty much jumped at the chance to write the liner notes for this release..
On a personal note, I remember this being one of the first albums I'd sought out when I first became aware of Patrick Adams' productions. I had already bought the
Musique
albums, as well as the
first Disco Juice compilation
(which included some of his
Cloud One
material). Not long after, in 2001 (some 13 years ago now - yikes!), at my
local record haunt
at the time - I had found a lone sealed, but unfortunately water damaged copy of this album. Checking it over carefully, debating with myself whether it was worth the dust and mould, I'd ultimately decide to leave it behind that time. I'd go back and repeat that exact scanario several more times before one day deciding that enough was enough - I had to have it, in whatever condition it came in. After all, it was the music that counted and since it was still sealed, any water damage could probably just be cleaned off anyway, right? Sure enough, the day I make a point of going there to buy it, I go to find that somebody had beat me to it! Couldn't believe it at the time, that someone else - in Calgary, Alberta no less (not exactly somewhere where you'd think you'd have been in competition for disco albums, certainly not back in 2001) would have been after this record and after it enough to buy one in that condition. Goes to show perhaps, as anecdotal as that impression may be, a sign of the cult following that this album probably already had at the time. Luckily, not too long after, a much nicer copy would find its way into their bins, which I quickly bought and which I still have and treasure today.
Phreek - May My Love Be With You (Vocals: Donna McGhee)
Uploaded by DJ Amine Bebito
Several years after, in 2007, I had written a
Disco Delivery entry for this album
and I pretty much jumped off some of what I had written then when I began the liner essay for this. One thing about this album that has always stood out for me is that I've always found it to be the bridge between Patrick Adams' experimental side on his productions on the P&P label, like Cloud One and the more slick, sophisticated arrangements that he was also known for, especially on his major label work. You've got a light string arrangement on "
Weekend
," you have the heavy moogy freakiness, the sweet, sublime and soulful sides ("
May My Love Be With You
") and of course, the lascvisious side as well ('
I'm A Big Freak (R U 1 2)
"). It's like a summary of the many angles of Patrick's musical approach at the time and in the credits, a gathering of many of his closest associates.
Disco Delivery #38: Patrick Adams Presents Phreek (1978, Atlantic)
It had actually taken a little while to do so, but last summer I was fortunate enough to get in contact with this two of the album's leading figures -
Patrick Adams
himself and
Leroy Burgess
(who co-wrote "
Weekend
" and "
Much Too Much
" with
James Calloway
and co-produced both tracks with Patrick) and interview them over the phone for this. Prior to doing so, I was expecting to rely a great deal on both of their
RBMA lecture
sessions
, which both Patrick and Leroy had done some nearly 10 years apart. As informative as those conversations are, it was no replacement for speaking to them personally about the album, their working relationship and how certain songs on the record came to be. Still, both of their RBMA lectures are highly recommended viewing for anyone even halfway interested in their work..

Lecture: Patrick Adams (New York, 2013)
Uploaded by Red Bull Music Academy on Vimeo.



Lecture: Leroy Burgess (Rome, 2004)
Uploaded by Red Bull Music Academy on Vimeo.
From there, I dug a little deeper and also managed to contact
Issy Sanchez
, who was Atlantic Records' Director of Disco Promotion and A&R at the time and who had also done the highly sought-after
12" remix
of "Weekend." Issy was not only able to give insight into that 12" mix and some of workings within the label, but given that he was fairly tight with Larry Levan and the Paradise Garage organization, was able to give some insight into how well "Weekend" had been received there and just how much of a classic it had become for Larry and the Garage crowd.
Phreek - Weekend (12" Disco Mix by Issy Sanchez, Vocal: Christie Shire)
Uploaded by tmontyb10011
Another key player I contacted for this was
Christine Wiltshire
, the lead vocalist on "
Weekend
," on both this and the
Class Action cover version
that came later. Credited as both Christine Wiltshire and
Christie Shire
on the album credits, Christine was not only one of Patrick's main backing vocalists and his vocal contractor but also his girlfriend at the time (they have a daughter and were together - personally and professionally for over a decade). I'd have to say that finding Christine was one of the greatest revelations in this process. The now Oscar winning documentary
20 Feet From Stardom
had just come out at the time, and hearing her story, she could have very easily been one of the film's subjects. Given how prolific she was as a background vocalist (and not just on Patrick's material), I was surprised to hear that she hadn't really been interviewed in depth about her work before our conversation. Her beginnings in the music business go back well before her disco work, when she sang in a trio called
Something Different
, with two childhood friends -
Angel Coakley
along with a certain
Jocelyn Brown
, who'd become a prominent and prolific vocalist in her own right (and who also appears here on Phreek and on quite a few of Patrick's major productions).. As a trio, Something Different had sang with
Zulema
,
Bill Withers
and even
John
and
Yoko
(getting a featured billing on Yoko Ono and The Plastic Ono Band's "
Feeling The Space
" album, no less). Apart from the trio, Christine herself would sing with
Lou Reed
and with
Luther Vandross
' group on his
very first album
, as well. While I was only able to use a small part of our interview for the liner notes, it was without a doubt one of the most valuable conversations I'd have in this whole process..
A Correction
:
At one point I quote Leroy Burgess talking about "
Much Too Much
" being the "first suggestion of the boogie sound" which it definitely is, especially if you listen to his later work as Convertion and Logg (he is widely crowned the king of boogie, after all). However he also goes on to say in doing it he wanted something with "a dance feel, but not as fast as what traditional disco is." Well, checking the BPM, it's not exactly slower than the rest of the record or even standard disco, but given that its got a funkier, more spacious arrangement than some of the others on the album, I think most people can see what he was getting at anyway. Still, something I should have caught earlier on.
Earlier Japanese reissue
:
Although Phreek had been out of print physically for some time, it had been legitimately available on
iTunes
for a few years before. Just as I came into this project however, Warner had evidently released this in Japan as a basic,
low-priced CD reissue
some months before this UK reissue could came out. Given that it was released as part of a budget-priced series (which also included another release BBR had licensed -
Gwen McCrae's 1982 album
), it was also a lot cheaper than your usual Japanese reissue (selling in some places for just over $10 US - and that's as an import). Whether that was intentional or not,(in pricing it in order to appeal to international buyers), it certainly ended up stealing some thunder from this release. That being said, (aside from the liner notes, of course) the UK BBR reissue includes two bonus tracks - Issy Sanchez's original 12" mix of "Weekend" and its B-side - a longer version of "
Have A Good Day
" which aren't included on the Japanese reissue.
A note about "Weekend" and chart positions
:
Patrick once posted on his Facebook about how some of his records have only become more and more popular as time has gone on. I believe he'd been referring to one of his P&P productions at the time, but I think this applies just as well to Phreek and "Weekend" too.. Right on the heels of "
In The Bush
," and right around the same time as a couple of other albums he'd produced on Atlantic - for
Narada Michael Walden
and
Herbie Mann
, even though this didn't chart quite as well as either of them, it seems out of his work for Atlantic,"Weekend" and the Phreek album have been the ones that discophiles today consistenly cite as one of his essential records. While I'm sure subsequent covers, remixes and
samples
along with its attachment to the Larry Levan/Paradise Garage legacy have played a significant part in that, it should also be noted that at the time of its release, despite positive reviews from
Vince Aletti in Record World
(see the December 9, 1978 entry - pg. 448 in the
The Disco Files
) and
Stereo Review
, this didn't chart anywhere on Billboard, including their disco chart. That said, I should also note that at the time of this album's release, Billboard's
National Disco Action chart
only went up to #40. It was only several months later in April 1979, that it would expand to 60 positions, (then 80 and eventually 100), so whether "Weekend" would have actually charted had that expansion come several months earlier is perhaps anyone's guess, but also goes to show whether or not a record is remembered years later, sometimes has little or nothing to do with its initial chart positions.
Covers and remixes
:
Although "Weekend" has been covered and remixed, most famously covered by
Class Action
and later
Todd Terry
(which was a #1 Billboard dance record, nearly ten years after the original's release), remixed by
Tommy Musto
in the late 1990s and also covered recently by the
current edition of Odyssey
, have to give a shout out to
Joey Negro
's recent remix of "
May My Love Be With You.
" Although not a part of this reissue, it was included on his
Remixed With Love
compilation and is undoubtedly one of my favourite songs from this album. True to its claim, done lovingly and faithfully in that old school style (ie. no added bells and whistles here, aside from what was already on the master), it only makes me love it even more.
PURCHASE:
patrick adams presents phreek (remastered cd) (1978, atlantic / 2014, big break records)
dusty groove
|
juno.co.uk
|
amazon.co.uk
|
big break records
PREVIOUS RELATED ENTRIES:
come put out the fire..
(tuesday july 24, 2007)
disco delivery #38: patrick adams presents phreek (1978, atlantic)
(thursday march 29, 2007)
LINKS:
facebook: big break records
facebook: patrick adams producer (fan page)
big break records: patrick adams presents phreek
patrick adams productions
leroy burgess - official website
discogs: phreek
discogs: patrick adams presents phreek
discomusic.com: phreek - weekend/have a good day (12" single)
discogs: phreek - weekend/have a good day (12" single)
discogs: phreek - weekend (gonna find someone) (7" single)
discogs: patrick adams
discogs: leroy burgess
red bull music academy - new york 2013: patrick adams lecture
red bull music academy - rome 2004: leroy burgess lecture
the second disc: big break's round up: label "phreeks" out with patti labelle, isaac hayes, gwen mccrae, more (by joe marchese)
(april 11, 2014)
CATEGORIES:
LINER NOTES