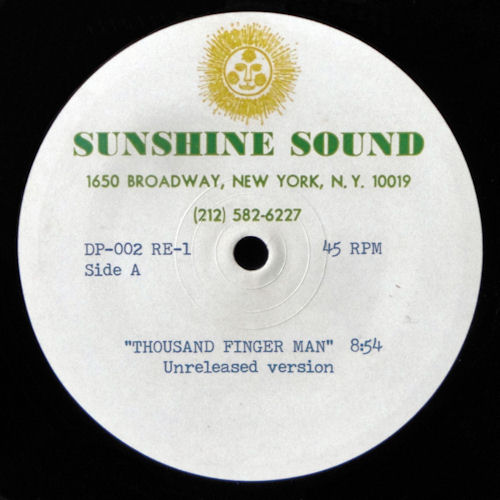 Somewhat overdue, but just to
add on to the previous post
- a bit more about the
recent unofficial repressing of a rare acetate
of two songs - "
Thousand Finger Man
" and "
Dancin' & Prancin
" from
Candido
's
1979 Salsoul album
.
As far as I know, these were very limited pressings, only available at
Juno
and
Rush Hour
, starting sometime around November/December. Initially said to have been a limited pressing of only 300 copies (which included a little
info-sheet
with a scan of the original acetate), it appears
a second run
was issued towards the end of 2013 after the first pressings sold out (minus the info sheet and where my copy appears to be from).
Granted, the sound quality is far from perfect - after all, it is a re-pressing, and a re-pressing of an acetate, no less; however beyond sound quality, the recordings themselves seem quite a bit better than demo quality. According to the info sheet, there are no mixing credits given on the original acetate, so these appear to have been early versions of these songs, before they were further mixed/polished up for the album.
Listen: Candido - Thousand Finger Man (Unreleased Version)
Listen: Candido - Dancin & Prancin' (Unreleased Version)
Both versions appear to have been subjected to a few more disco conventions for the album, (ie. added breakdowns towards the last portion of both songs), toning down some of the jazz/improvisational elements (note that distinct recurring sax solo in "Dancin' & Prancin'," later relegated to the fade-out on the LP). While the differences between the acetate and album versions of "Thousand Finger Man" are fairly subtle - a more elaborated breakdown in at the beginning, but missing the percussion break towards the middle, "Dancin' & Prancin'," on the other hand feels quite a bit brighter and bolder here. With the aforementioned recurring sax solos and that extra prominent bass after the 5 minute mark, the acetate version feels both jazzier and funkier than the LP version. As per the album, produced by
Joe Cain
and arranged by
Louis Small
(
more on them in the previous post
), with
Norman Durham
(bass) and
Woody Cunningham
(drums) backing Candido - one can definitely hear more than a few shades of the sound Cunningham and Durham (and Louis Small) would craft on their debut album as
Kleeer
not long after.
PREVIOUS RELATED ENTRIES
:
liner notes: candido - dancin' & prancin' (1979, salsoul / 2012, big break/cherry red)
(friday february 7, 2014)
LINKS
:
juno records: candido - the unreleased versions
rush hour: candido - the unreleased versions
discogs: candido - thousand finger man / dancin' & prancin' (unreleased versions)
secret rendezvous: candido acetate - unreleased versions of 'thousand finger man' and 'dancin' and prancin' '
(monday november 11, 2013)
discogs: candido - dancin' and prancin' lp
facebook: candido camero fans
discogs: joe cain
discogs: louis small
discogs: woody cunningham
discogs: norman durham
CATEGORIES:
MINI DELIVERIES