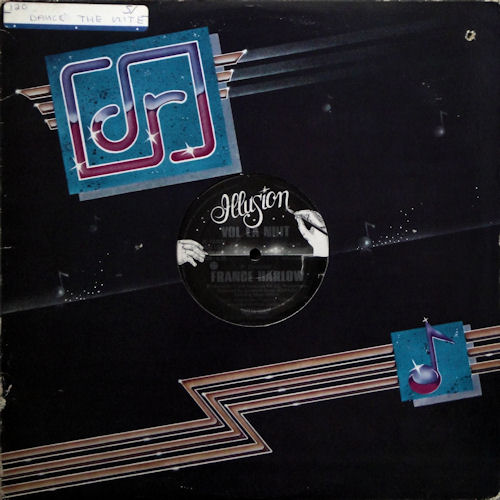 Recently obtained this dreamy little bit of early 80's bilingual
Can-Con
, and have been giving this one quite a few spins lately. Produced by a one
Frank Ceniccola
, whose name I haven't seen anywhere else (aside from the
only other France Harlow entry
on Discogs), and sung and adapted in both official languages by
France Harlow
AKA
Francine Thibeault
, in a slightly idiosyncratic, unaffected vocal style; as far as I'm concerned, its got all the good things about that early 80's Montreal synthy (post-) disco sound that I love (plus some lovely label art, too).
Listen: France Harlow - Vol la nuit (French Version) (1983, Illusion)
Listen: France Harlow - Dance The Night (English Version) (1983, Illusion)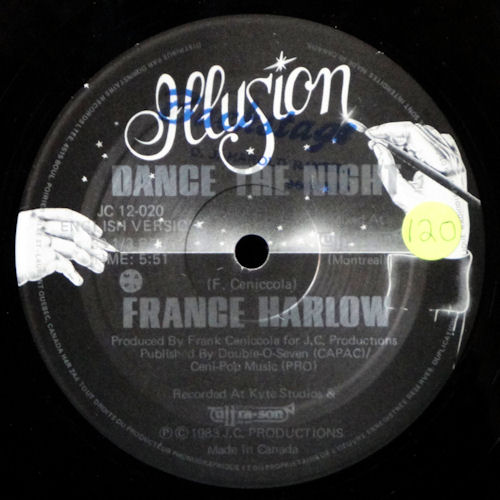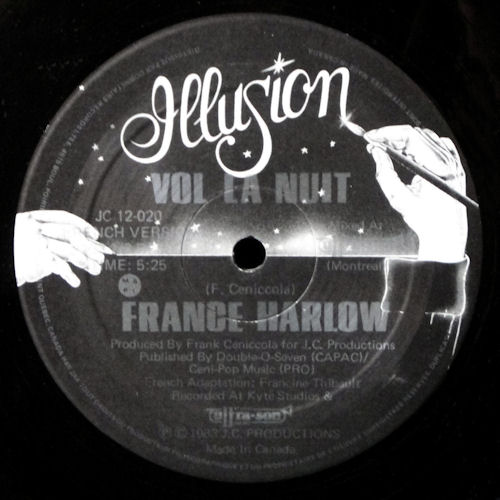 The synthesized backing never crosses into gimmicky overkill, and in a greater feat, neither does the added saxophone, which is deployed rather tastefully on both sides. While the lady herself has
made her presence known
on the lone youtube posting of this record, hitting back at one critic of her vocal abilities, I do have to say that I actually quite like the fact that the lady's voice is just a little bit rough around the edges here. She almost sounds like a punk/new-wave refugee, with a slightly hesitant deadpan which gives way to little flickery moments of sincerity every now and then. Or maybe she was just an amateur. Either way, a lot of Montreal productions from this time aren't necessarily regarded for their big-budget, hi-gloss finesse, as I've mentioned before. At times there's a bit of a shoestring quality that comes through, which, when done right (as it is here), actually works in its favour.
While I ripped both sides of this single at the proper speed, I personally like playing this one slightly slowed down, for extra dreaminess.
LINKS
:
discogs: france harlow - vol la nuit/dance the night 12''
discogs: france harlow
discogs: frank ceniccola
youtube: francine thibeault
CATEGORIES:
CAN-CON DISCO
,
MINI DELIVERIES