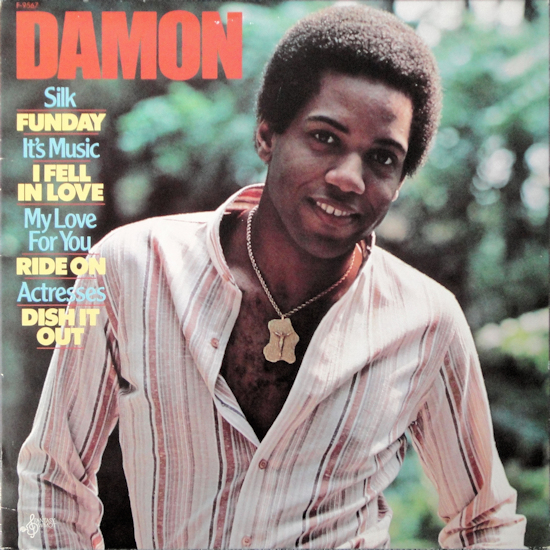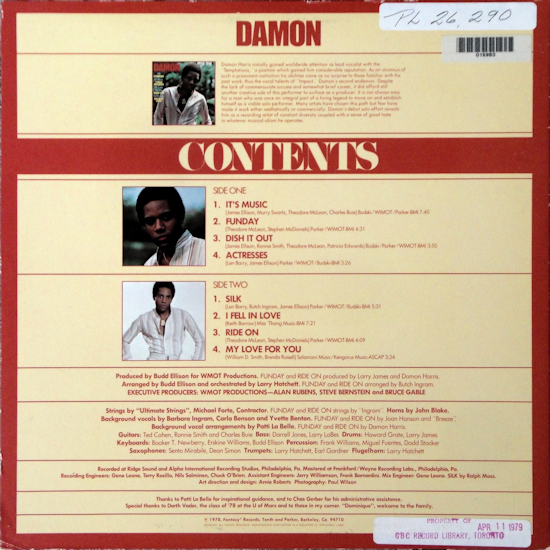 Damon Harris - It's Music
Damon Harris - Silk
Let me just say, before
last week's Disco Delivery
, I never knew just how (apparently) popular
Phylicia Rashad
is.. Not sure that I can top that this week, but for what it's worth, I figured it was time for a little break from the divas..
Damon Harris
was a member of
The Temptations
from 1971 to 1975, as original member
Eddie Kendricks'
replacement. At the time he joined the group, he was 20 and by far their youngest member. He had been such a big fan of the group even before joining that he had previously been a part of another group called
The Young Tempts
who had released a few singles on former
Motown
group
The Isley Brothers'
T-Neck
label. Not surprisingly, Motown filed suit and they changed their name to
The Young Vandals
. Fast-forward to 1975, after a four year tenure Harris was ousted from the Temptations, apparently because of issues with group leader
Otis Williams
. After leaving the fold, he reformed the Young Tempts/Vandals under the name '
Impact
.' They would end up releasing only a couple of albums and neither were big sellers, but both have become quite highly regarded today.
After the breakup of Impact, he did this one solo album in 1978 on the
WMOT (We Men Of Talent)
label, which at the time was California based
Fantasy Records'
Philly outpost. The album was produced by the late
James "Budd" Ellison
, who until his recent passing this past October 2005 was
Patti LaBelle's
longtime musical director.. While the album was quite good; commercially speaking, it didn't exactly fare any better than any of Impact's albums, yet did yield at least two notable songs..
The lead off track, "
It's Music
" was one song that I had loved even before tracking down this album. I had originally heard it on the
Larry Levan Live at the Paradise Garage
set. It worked so perfectly on his mix, with Damon's vocal drawing you in, gently urging you to "
feel the music
.." Such a great way to build up the mood, I thought. Needless to say, I was so glad to find that full 7.40 album version when I did. The best way I can describe the sound of this record is just as a straight ahead, percolating, sexy, and polished sound.. Those funky guitars and horn section are (as usual) some of my favourite parts about this record, along with Damon's gentle, yet assertive vocal and the strong backgrounds which really build this one up.
The rest of the album was quite good as well; some really classy, melodic R&B especially on "
Funday
," "
Actresses
," "
I Fell In Love
," and "
My Love For You
," but the only other notable disco track on the album was the title track "
Silk
." A song about a lady "
who got her name from the way she plays the game
," who is "
every inch a lady, ain't no man can call her 'baby'
." After seeing her with her "lady friends," he realizes that "
there's no lover and there's no man
," hmm... In any case, it's one of my favourites on the album; the lyrics, though simple, are paired with a wonderful melody, anchored by the those great horn and string sections. It's the type of tune you can have running through your head for days on end, at least in my experience anyway..
As far as I know, Damon Harris hasn't released any other solo albums. These days though Harris is involved with his own
Damon Harris Cancer Foundation
(remove exclamation point in new window) which he started after his successful battle with prostate cancer. He also still performs as "
The Temptations Revue featuring Damon Harris
," one of several former Temptations members with their own 'revues' of Temptations hits..
A note about the cover photo on the top.. No, I did not make that thing myself. I'm not an expert, but I'm sure even I could do a better job. That cover is the hack-job of the original that they used on the now out-of-print 1995
Hot Productions
CD reissue of the album (mastered from the original
vinyl
no less!). Unfortunately I couldn't find a pic of the original cover, so that had to do for now..
Some trivia: Patti LaBelle is credited for 'Background Vocal Arrangements' on the album, which were performed by the ubiquitous
Sweethearts of Sigma
:
Barbara Ingram
,
Carla Benson
and
Evette Benton
.
Also, if anyone plans to buy this CD at Amazon.com, beware of sellers who are selling CD-R copies of out-of-print Hot Productions CD's like this one. I haven't bought any from there, but I've heard this from
others who have
..
LINKS:
DAMON HARRIS' OFFICIAL WEBSITE
DAMON HARRIS - SILK LP (REVIEW) @ ALLMUSIC.COM
JAMES 'BUDD' ELLISON @ SOULFUL DETROIT FORUM
JAMES 'BUDD' ELLISON HOMEGOING SERVICE @ SOULFUL DETROIT FORUM
PURCHASE:
DAMON HARRIS - SILK CD @ AMAZON.COM
CATEGORIES:
DISCO DELIVERIES
,
CONSUMER ADVISORY
,
PAST REISSUES