I know it's been a while, so much so that I think I almost forgot I had this blog for a while there, but for those who still check here from time to time, I apologize for my prolonged absence. I've gotten some emails in the mean time that I still need to reply to, so I hope to get on to that in the next little while. In July after I had gotten my new turntable cartridge, I had mentioned doing some re-uploads. I managed to re-rip a couple of albums shortly after that post -
Disco Delivery #55: Cissy Houston - Step Aside For A Lady (1980, Columbia)
from this past June and from two years back
Disco Delivery #25: Rinder & Lewis - Warriors (1979, AVI/Quality)
. I've updated the links on their respective pages, so hope you enjoy the music and improved sound..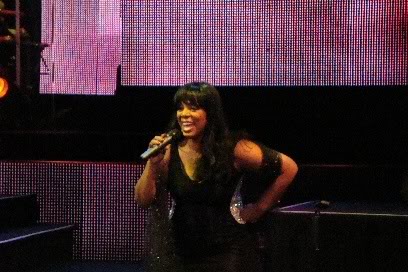 In other updates, this is probably old news, but a while back I had promised a review of the
Donna Summer
concert (I know, welcome to three months ago) that I had planned to go to. Well I went on a little vacation to Vancouver, BC back in August and attended her concert in Richmond, BC while I was there... I always enjoy myself in Vancouver and this time was no different. I would have made a daytrip to Seattle if I had my passport, but unfortunately I didn't, so maybe next time..
Either way, I absolutely didn't want to leave (as usual). Took a lot of pix and bought a quite a few records, or at least spent a shitload of money on them (they don't come cheap out there!). As far as the concert goes, it was pretty damn awesome! With the screens, dancers (yes, dancers, I kid you not) it was reportedly her most elaborate tour in a while, and I'm very glad I got the opportunity to see her. While there were elements of the show that seemed a little bit cheesy (those dancers as football players - please!) the Queen of Disco did not disappoint vocally or otherwise and neither did the crowd, for that matter.. I've heard of concerts or shows where people rushed the stage, danced in their seats, danced in the aisles, I have never actually witnessed such a thing until that night. Never did I think I'd see such an insane crowd at a Donna Summer concert and in Vancouver, no less, which never really struck me exactly as Disco City North, but perhaps I was wrong.. On another note, the same night
James Murphy
and
Pat Mahoney
of
LCD Soundystem
were doing their DJ gig as
Special Disco Version
at
Celebrities
(a local gay nightclub, apparently becoming increasingly popular among the straights), which I unfortunately missed. I was kinda bummed when I remembered, it would have made for an even better night, but oh well..
Anyway, with that, I'll refrain from writing a big long crazy review as per usual, however my friend
Eric
, whom I had a great meeting with after the show, pretty much summed it up in his great
review @ the Donna Tribute site
.. With that, I'll leave you all with
a link to the pix I took during the concert
..
Also, I will be putting up a new Disco Delivery post very soon, so stay tuned..
PREVIOUS RELATED ENTRIES:
COLOUR IT A COMEBACK?
(WEDNESDAY MAY 28, 2008)
BBC RADIO 2: CLASSIC SINGLES - I FEEL LOVE
(SUNDAY DECEMBER 30, 2007)
LINKS:
THE VANCOUVER SUN - THE QUEEN OF DISCO IS BACK, READY TO DEFEND HER MUSIC (BY TONY LOFARO)
(THURSDAY AUGUST 7, 2008)
DONNA TRIBUTE - FAN CONCERT REVIEWS: AUGUST 8 & 9 - VANCOUVER, BC
PHOTOBUCKET - DONNA SUMMER @ THE RIVER ROCK CASINO, AUGUST 8, 2008
CATEGORIES:
RE-DELIVERIES
,
ARTICLES & RAMBLINGS