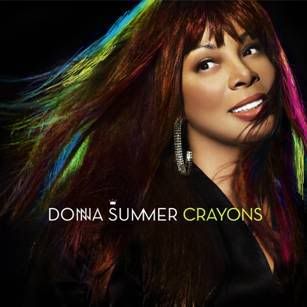 Unsurprisingly, "
Crayons
" has been one of my frequent listens this past week, and so far reviews have been about as mixed as the genres on the record. Admittedly, even despite my own initial skepticism, I've found a lot to love on this record. It's hard to believe that all of seventeen years have passed since the last time
Donna Summer
has released an original album (and about eight since her last aborted comeback). In the intervening years, her status as "
Queen of Disco
" and her classic recordings with
Moroder
&
Bellotte
seem to have only gained currency, so understandably expectations have been anything but modest. Despite that, "Crayons" comes across as less of an opportunity to affirm her title as the "Queen of Disco" and capitalize on the appreciation, or at least the spirit of her earlier work than it is an excuse to pick up where she had left off nearly 20 years ago and record what is possibly the most diverse, self consciously current, accessible pop records of her career. Depending on one's perspective, it's either a laudable move or a missed opportunity, and it seems almost every review out there seems to fall in either one category or the other..
In a time when the music industry seems to require veteran artists to release endless streams of standards/cover albums (the first suggestion her label brought to the table, not surprisingly), I'm not sure that there's an album out there now that manages to be so unabashedly trendy, yet so un-trendy at the same time. In my mind, she deserves a good deal of credit for bucking the trend and at nearly 60, putting out an original pop record, however out of place it may seem. While the likes of
Madonna
and
Kylie Minogue
, having perfected the impeccably timed pop singer reinvention, may be able to pull off something similar without the same sort of criticism someday; between her seventeen year absence from recording and her still strong association with the disco era, considerable vocal talent notwithstanding, one can hardly say the same for Ms. Summer.. Unlike a near decade ago when the likes of
Cher
and
Tina Turner
were putting out hit records with younger producers, in the last four or so years it seems, the thought of an aging diva staging a comeback with a pop record as polished and commercial as this one today, produced by a laundry list of current hitmaking producers feels almost like a critical death wish..
With songs like "
Stamp Your Feet
," seemingly tailor made for a
Nike
commercial, it's hook copping the
Gwen Stefani
/
Fergie-inspired
(or not so inspired) 'spelling bee' trend, to "
Mr. Music
", where she opens with a line about '
hooking up her iPod
,
shaking her body
and being '
naughty, naughty
', to "
Crayons
" (featuring
Ziggy Marley
) which sounds like
K-os
crossed with
Rihanna
, or even "
The Queen Is Back
" with it's
Mary J.
declarations backed with
ABBA
chords and hip-hop beats, parts of the album sound, to put it honestly, almost embarassing on paper. Admittedly, given all that, it would be extremely easy to completely dismiss the album altogether, if the results weren't as surprisingly and seriously enjoyable as they actually are.
Despite how they may come across on paper, the aforementioned first four tracks end up being some of the most infectious tracks on the record. The single, the
Greg Kurstin
produced "
Stamp Your Feet
" makes the perfect combination of dance-appeal and current pop-radio friendliness and "
Crayons
" (also produced by Kurstin), despite the surface similiarities to her less-than-stellar 1983 single "
Unconditional Love
," thankfully comes across infinitely better. Even the
J.R. Rotem
tracks - "
Mr. Music
" and "
The Queen Is Back
" with their slightly awkward combination of Donna and their urban styled production values, end up being some of the most memorably catchy tracks on the record.
Although not without it's low-points - namely the gimmicky, overproduced "
Fame (The Game)
" and "
Slide Over Backwards
" on which she adopts a southern alter ego whom she calls
Hattie Mae Blanche Dubois
, other album highlights include the latin styled "
Driving Down Brazil
," as well as
Toby Gad
produced "
Science of Love
" with it's memorable melody and impassioned vocal and lyric, which is, aside from the ones already released, perhaps the most obvious single on the album. As well, the more 'unplugged' tracks on the album, "
Sand On My Feet
" and the personal "
Be Myself Again
" and the socially conscious "
Bring Down The Reign
" are also notable moments, successfully bringing Donna and her voice into a setting in which she has rarely, if ever been heard. In so doing, they're perhaps the two tracks which most dramatically and clearly confirm the album's ambitions..
The first single and # 1 Billboard Dance hit "
I'm A Fire
" produced by
Sebastian Arocha Morton
emerges as another obvious highlight along with the international/US Circuit City bonus (also produced by Morton), "
It's Only Love
." Out of all the others, they are the only two tracks which seem to perfectly bridge the feeling of Donna Summer's classic disco recordings with today's contemporary dance/electronic aesthetics. It has to have been at least thirty years since a Donna Summer record has captured the sheer sensuality and sexiness in her voice as perfectly as "It's Only Love".
Although it's questionable whether this record will appeal to the same people who would buy a
Fergie
or
Rihanna
record, given how influential the work of
Giorgio Moroder
, particularly her work with him continues to be among newer generations of producers and listeners, there would likely be no shortage of younger, perhaps lesser known, but no less able and ambitious producers willing to return her to the forefront of contemporary electronic/dance music, if she so wishes to in the future. Anyone expecting as such with this album however, would probably be disappointed. Despite that, as a quality pop album and as a showcase of Summer's versatility, it's a roundly successful effort. Although her last original album was released seventeen years back, it's been even longer since Donna herself has sounded this engaged and exciting. So while this album may not singlehandedly untie her legacy from the past, she's at least proved that she's not about to be trapped by it, either. Hopefully the next album won't take another seventeen years.
As a side note, I've got my tickets to see her in Vancouver (well, Richmond actually) this coming August on her summer tour. It'll be my first time seeing her live, so I can't wait! I'll make sure I'll post a review and maybe some pix when I get back..
PURCHASE:
DONNA SUMMER - CRAYONS (US CD)
AMAZON.COM
|
CD UNIVERSE
DONNA SUMMER - CRAYONS (UK/INTERNATIONAL CD) - RELEASED JUNE 23
CD WOW
|
AMAZON.CO.UK
|
PLAY.COM
DONNA SUMMER - STAMP YOUR FEET (CD SINGLE)
PERFECT BEAT
DONNA SUMMER - I'M A FIRE (CD SINGLE - PART ONE)
PERFECT BEAT
DONNA SUMMER - I'M A FIRE (CD SINGLE - PART TWO)
PERFECT BEAT
PREVIOUS RELATED ENTRIES:
DONNA SUMMER/CYNDI LAUPER ALBUM UPDATES
(THURSDAY MAY 15, 2008)
NEW DONNA SUMMER ALBUM COMING IN MAY..
(WEDNESDAY FEBRUARY 20, 2008)
BBC RADIO 2: CLASSIC SINGLES - I FEEL LOVE
(SUNDAY DECEMBER 30, 2007)
TWIGGY DOES DISCO.. (WITH A LITTLE HELP FROM DONNA)
(TUESDAY SEPTEMBER 18, 2007)
NEW DEAL FOR DONNA
(THURSDAY AUGUST 3, 2006)
DONNA SUMMER - I GOT YOUR LOVE
(MONDAY JANUARY 16, 2006)
DISCO DELIVERY #52: STAINLESS STEAL - CAN-CAN (1978, WARNER BROS.)
(TUESDAY FEBRUARY 5, 2008)
DISCO DELIVERY #40: MUNICH MACHINE - A WHITER SHADE OF PALE (1978, CASABLANCA)
(SUNDAY APRIL 29, 2007)
DISCO DELIVERY #14: SUZI LANE - OOH LA LA (1979, ELEKTRA)
(SATURDAY APRIL 8, 2006)
DISCO DELIVERY #5: GIORGIO MORODER - FROM HERE TO ETERNITY (1977, OASIS/CASABLANCA)
(FRIDAY FEBRUARY 3, 2006)
LINKS:
BILLBOARD.COM - DONNA SUMMER - CRAYONS (BY MIKAEL WOOD)
ALL MUSIC GUIDE - DONNA SUMMER - CRAYONS (BY ANDY KELLMAN)
SOULTRACKS: DONNA SUMMER - CRAYONS (ADVANCE REVIEW) (BY CHRISTIAN JOHN WIKANE)
THE DALLAS MORNING NEWS: DISC DEBUTS: "CRAYONS" BY DONNA SUMMER
(MAY 27, 2008)
BLOG CRITICS MUSIC REVIEW : DONNA SUMMER - CRAYONS (BY DONALD GIBSON)
(MAY 24, 2008)
SLANT MAGAZINE: DONNA SUMMER - CRAYONS (BY ERIC HENDERSON
(MAY 20, 2008)
ORLANDO SENTINEL: VARIETY MARKS DIVA'S LATEST EFFORT (BY FERNANDO QUINTERO)
(MAY 20, 2008)
THE WASHINGTON TIMES: VARIETY MARKS SUMMER'S RETURN
(MAY 20, 2008)
NEW YORK TIMES CRITIC'S CHOICE: DONNA SUMMER - CRAYONS (BY BEN RATLIFF)
(MAY 19, 2008)
BOSTON HERALD: DONNA SUMMER - CRAYONS (BY LARRY KATZ)
(MAY 19, 2008)
THE MIAMI HERALD ALBUM REVIEWS - DONNA SUMMER - CRAYONS (BY HOWARD COHEN)
(MAY 16, 2008)
POP TRASH ADDICTS: CRAYONS - THE POP TRASH REVIEW
(MAY 24, 2008)
XO'S MIDDLE EIGHT: REVIEW - DONNA SUMMER'S CRAYONS
(MAY 17, 2008)
DONNA SUMMER - OFFICIAL WEBSITE
DONNA TRIBUTE
CATEGORIES:
NUDISCO
,
ARTICLES & RAMBLINGS