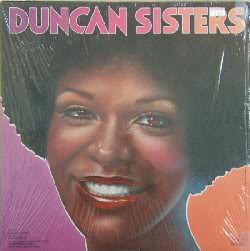 Duncan Sisters - Boys Will Be Boys
Duncan Sisters - Sadness In My Eyes
Duncan Sisters - Outside Love
I know it's been a little while since my last entry, I apologise for the brief absence.. In any case, In that time I've only gotten busier at work, bought a new iPod (yes, finally jumped on the bandwagon) and am nearly finished reading
Peter Shapiro's
excellent book "
Turn The Beat Around - A Secret History of Disco
," which has been an amazing read.. Even if you may not agree with everything he says, it's an extremely interesting and even illuminating read. Hope to write a longer review about it one of these days.
I've been wanting to do an entry on at least one of the great productions of Toronto-based producers
Willi Morrison
and
Ian Guenther
(A.K.A.
Three Hats Productions
/
THP
) for a little while now. In case some of you don't know, they were the production duo behind the
THP Orchestra
and their epic disco monster "
Two Hot For Love
." Some of their other projects included
Sticky Fingers
,
Grand Tour
,
Skatt Bros
. (an unfortunate name if there ever was one) to name just a few. One of those projects included this album for the
Duncan Sisters
, Phyllis and Helen whom they had been using as regular session singers on some of their major projects from that time. In the mid '70s, prior to their disco efforts, the Duncans had done backup vocals for the likes of
Al Green
and
Ann Peebles
on the Memphis
Hi
label. In 1978 they would begin appearing as the primary lead vocalists on Morrison and Guenther's third (second in the US) THP album "
Tender Is The Night
(1978, Butterfly) and later on their
Sticky Fingers
(1978, Prelude) project.
It seems by 1979 Guenther/Morrison were starting to branch out from their signature sound somewhat. They would take a rock-oriented direction on the
Skatt Bros'
"
Strange Spirits
" (1979, Casablanca) album and a more radio-friendly pop sound for the final THP album "
Good To Me
" (1979, Atlantic). The Duncan Sisters album, not surprisingly, falls on the more pop-oriented side of things. Originally released in the US on
Casablanca
's
Earmarc
imprint (but on
RCA
in Canada), the single off the album, "
Boys Will Be Boys
" had some of the same characteristics as their hit "Two Hot For Love". A very similar percussion/hi-hat intro, similarly lush light synths, except this time quickly merging itself into a full, layered
Spector
-esque power-pop/disco combo. Again, with those characteristic THP horns spread all over the place, gunslinger guitar and spirited, catchy vocals and lyrics, it has all the elements in place. There's a definite classic pop aesthetic in the song. With the way the sisters sing a lyric like "
the traces of the tears I cried are on my face
," they do what some of the best pop songs do. In other words translate heartbreak into something irresistably sweet, catchy and infectious..
With a title like that, probably not a surprise that "Boys Will Be Boys" was a hit in quite a few gay clubs. Interestingly,
Ronnie Spector
herself would cover this song on her
Genya Ravan
-produced "
Siren
" LP from 1980.
"
Sadness In My Eyes
" takes things a little bit more seriously. A song that, instead of brushing it aside like the previous, seems to revel in it's drama-queen sensibility. It's a song with a melody that is so simple, effective and original that it's hard to believe it's not a cover. Written (music and lyrics) by Willi Morrison, the lyrics are interesting, given 1979 as the last years of disco as most knew it. The line, "
it's sad I know, when the good times have to go..
" seem eerily prophetic for it's time. The end of a love-affair paralleling the end of disco perhaps? Maybe there was a lingering sense of what would happen at the time. I'm not sure, but like what Peter Shapiro touched on in his book, some of the best disco came from those that were able to take the bitter with the sweet. Those, like
Rodgers & Edwards
of
Chic
who didn't just leave disco as a pleasure free-for-all, but who acknowledged the sense of melancholy, bitterness and cynicism that was just as much a part of disco as the escapist, hedonistic party that was most visible. Then again, maybe I've just been into Shapiro's book a bit too much, but I digress..
"
Outside Love
" (also a single, apparently) is somewhat more conventional disco than the last two. Back to big diva vocals, powerful, sweeping buildups and layered instrumental breaks. One of my favourite parts ot this song is at the end of the chorus when the one of the ladies sings "
I'd be better loving on the outside
." Powerful vocals and drums punctuating every syllable.
Some of the other songs on the album include at least one other enjoyable disco track, "
Love Is On The Way
" as well as some good to awful attempts at balladry, namely "
Rock Along Slowly
," which is hopelessly pedestrian, to "
You Give Me Such A Feeling
" which is a great album closer.
The Duncan Sisters would release one more album in 1981 (which I haven't heard yet) called "
Gonna Stay In Love
" (pic stolen from eBay). This time around they were calling themselves just
The Duncans
and had switched to the blues & soul indie label
Malaco
. One of the singles off that album, "
Too Damn Hot
" was released as a 12". The title track and another song, "
Your Love Still Brings Me To My Knees
" (these titles certainly sound promising..) were also released as singles.. Since then the Duncans have occasionally surfaced as backup vocalists for the likes of
U2
and
B.B. King
to name a couple. The most recent news about them was of a performance together, once again as the Duncan Sisters, at the 1999
Poretta Soul Festival
in Italy. According to the brief bio on the Soul Festival's website, at that time Helen was a soloist in the
Oakland Interfaith Gospel Choir
and Phyllis was working with the
Jim Johnson Orchestra
of Memphis.
This is just the first of several THP Productions that I would like to put up. It's really too bad that very little of their output has been featured on CD as of yet. They were one of the best representations of what some have called a "Canadian disco sound" - a unique hybrid of both American and European styles. There have been some reviewers who type them as "Eurodisco," and there was certainly that element, but there was also a definite (North) American continental sound it. In other words, it definitely didn't sound like anything from either Munich or even New York. Given the penchant for some Canadian productions to be somewhat on the cheap side once in a while (after all, it was, relatively speaking, the early days of
Can-Con
), there was never anything cheap sounding about a THP production. Even just for that, they deserve their props.
Also something to note,
Richard Bernstein
, the graphic artist who did those iconic covers for
Grace Jones'
three
disco
albums
and
Loleatta Holloway's
1979 "
Loleatta
" album was also behind the photo-drawings on the cover..
LINKS:
DUNCAN SISTERS - S/T LP @ DISCOMUSIC.COM
DUNCAN SISTERS - BOYS WILL BE BOYS 12'' @ DISCOMUSIC.COM
DUNCAN SISTERS @ THE PORETTA SOUL FESTIVAL
DUNCAN SISTERS @ SOULFUL DETROIT FORUM
DUNCAN SISTERS @ DISCOMUSEUM.COM
DUNCAN SISTERS @ DISCOGS
PHYLLIS DUNCAN CREDITS @ ALL MUSIC GUIDE
HELEN DUNCAN CREDITS @ ALL MUSIC GUIDE
THE DUNCANS - GONNA STAY IN LOVE LP (REVIEW) @ ALL MUSIC GUIDE

PURCHASE:
VA - WE LOVE DISCO @ AMAZON.CO.UK (INCL. "SADNESS IN MY EYES")

CATEGORIES: DISCO DELIVERIES, CAN-CON DISCO