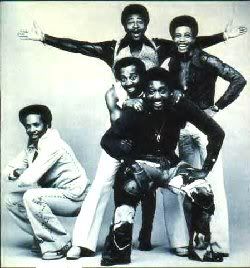 The Temptations - Power (1980, Motown)
|
LINK TWO
One little song before Friday.. This is one that I've been listening to quite a bit lately and a group which I'm just starting to get familiar with. "
Power
" was something of a comeback for the Tempts after a disastrous late '70s dry spell. It also signaled their return to
Motown
after a brief and unsuccessful stint on
Atlantic Records
.
The Temptations
hit it big in the discos early on with "
Happy People
" and "
Glasshouse
" off their 1975 "
A Song For You
" album, so it appeared they would have no trouble adopting disco elements into their sound and seemed well on their way to continued success. Unfortunately, it didn't quite turn out that way and would only be downhill from there.. After a few more albums they would leave Motown citing the label's lack of attention - a common complaint with many prominent Motown acts in the '70s (just ask
The Supremes
,
The Four Tops
and
The Jackson 5
to name a few..). Jumping ship to Atlantic didn't exactly help matters either, so upon returning "home" to Motown,
Berry Gordy
himself (along with frequent collaborator
Angelo Bond
), in what seemed to be a response to their earlier claims of inattention, had personally taken the reins and produced their comeback album and single.
The result, "Power," is one pretty tight, meaty track; something of a throwback to the socially conscious themes that ran through much of their work with Motown funk genius and super-producer
Norman Whitfield
, minus Whitfield's grand (others might say grandiose) style. I really love how it builds up and peaks right when
Dennis Edwards
(I think that's him) gets to doing his his soul-shouting thing towards the end of the track.. "
..their hands sweat.. their fingers itch.. I'm the only one you can trust with the switch.. give it to me!
." In my opinion, a great blend of funk and disco to be sure.. It was also a long overdue follow-up to their 1975 disco hits; they had done some disco in between then, yet this was their first since '75 to make the club/disco charts (peaking just outside of the top 20). Judging from some of the things I've read, it didn't seem to be quite the big comeback that was expected. It would just miss the top 10 of the R&B charts and the top 40 of the pop charts, but even so, still a success after literally falling off the radar for several years there..
Note: I'm done with
FileLodge
. This file is up on
zShare
. Thanks to the commenter
jbpeevish
on the First Choice post for the suggestion.
LINKS:
THE TEMPTATIONS @ ALLMUSIC.COM
THE TEMPTATIONS DISCOGRAPHY @ WIKIPEDIA
THE TEMPTATIONS' ALBUMS 1980s, 1990s
THE TEMPTATIONS - POWER LP (REVIEW) @ ALLMUSIC.COM
PURCHASE:
LIFE:STYLES COMPILED BY COLDCUT CD
(INCLUDES "POWER")
CATEGORIES:
MINI DELIVERIES