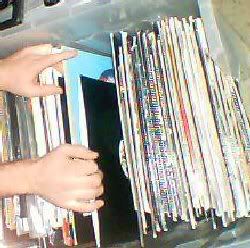 It's been a long time since I've visited the fine used record establishments (
one, in particular
) here in Cowtown, Alberta.. Not that I had a whole lot of extra money or anything, I just really, really needed my record fix. Here are some of the goodies I came out with, look for some of the disco selections to be featured on here soon.. *wink*
-
Vera - Joey LP
(1983, Matra) - Little known early '80s Montreal disco, think a slightly darker, slicker
Carol Jiani
,
Lime
etc..
-
Leslie O'Hara - Gipsy Boy LP
(1978, Crocos/Les disques Martin) - A little known
Cerrone
production
-
Denise LaSalle - Unwrapped LP
(1979, MCA) - Sealed, some good disco/disco-influenced stuff on here..
-
Madonna - Everybody 12"
(1982, Sire) - Partially sealed with the picture sleeve that she apparently hated lol.
-
Wilson Pickett - I Want You LP
(1979, EMI America) - Excellent R&B/Disco LP by the late Soul legend..
-
Gino Soccio - Temptation Eyes/Camouflage 12"
(1985, Célébration/Quality)
-
Carol Cooper - Tunnel Of Love 12"
(1985, Profile) - Hot '80s dance/electro
-
Niteflyte - S/T LP
(1979, Quality/Ariola America) - Partially sealed.. was expecting disco, but got classy R&B/West Coast MOR instead.. not bad.
-
Tina Turner - Foreign Affair (Limited Edition) CD
(1989, Capitol) - No, not disco either, but one of my favourite Tina albums. Not to mention a sealed copy of the Ltd. Ed.
Passport Edition
.. Needless to say, I'm still afraid to open it..
A little aside: if there are any Canadian readers out there, hope you all voted today :-) I'll definitely be glued to the TV tonite!
I'm out..
CATEGORIES:
MISCELLANEOUS