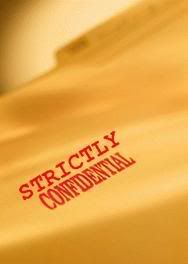 Just a little heads up for those who may be interested.. I'll be on internet radio this Tuesday, as this week's musical guest on the
Head On Radio Network
's LGBT program
Strictly Confidential Radio
with
Peter Godbold
. Considering some of their past guests, it's quite an honour to say the least.. We'll be chatting and playing some past Disco Delivery features plus some other things as well..
If you'd like to tune in, point your browsers to
www.strictlyconfidentialradio.com
and the 'Listen Live' link. I'll be on from
9 to 11 pm Eastern Time
tomorrow -
Tuesday January 22nd
.
I believe it'll be a call-in show as well, so if you'd like to say 'hi', they've got a toll-free call in number as well. Hope you can tune in!
Special thanks to
Bobby Viteritti
and
VJC
of
Disco935
for hooking me up!
Update
: Unfortunately it sounds like a purse fell out of my mouth, but if you still care to listen, the podcast link is now up on the
Strictly Confidential website
(go to the calendar at the bottom of the page). Thanks to Peter Godbold for having me on and to VJC, Bobby and Enrique for calling in..
LINKS:
STRICTLY CONFIDENTIAL RADIO
THE HEAD-ON RADIO NETWORK
MYSPACE - PETER GODBOLD/STRICTLY CONFIDENTIAL RADIO
CATEGORIES:
INTERVIEWS