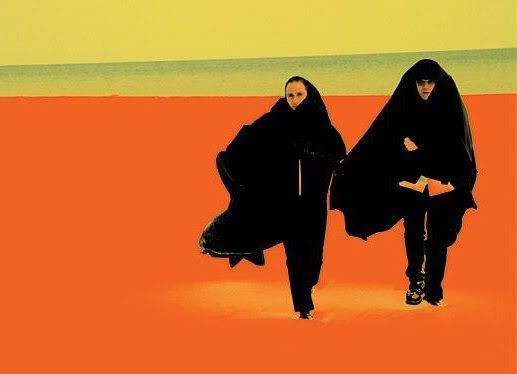 Codebreaker - Are You Ready 2 Love? (2007, Codebreaker)
*
purchase links corrected
Just a little weekend detour here.. Lately, I've been hearing a lot new music that I've been particularly excited about and these guys are at the top of my list. Shortly after posting about
Ultra Naté
's new stuff, I got turned on to the up-and coming Milwaukee duo
Codebreaker
. About a week ago, one of the guys in Codebreaker, Steven Hawley was kind enough to send me a copy of their latest CD "
Exiled!
". The duo (
Steven Hawley
and
Sage Schwarm
) have been generating a lot of buzz in the
blogosphere
lately, and after listening to the CD, I knew I had to do my part.. These past few days, ever since getting it, I've been totally digging that unabashedly infectious electro space-disco funk-rock groove that they've got going on. Chunky guitars, infectious grooves, electronic beats, dreamy synths and their own brand of space-funk quirkiness on top of it all. It's like
Nile Rodgers
in his '
land of the good groove
' meeting the polished electronics of
Hysteria
-era
Cerrone
. Either way, whatever frame of reference you may choose, these guys have put out some of the most original, exciting stuff that I've heard lately.
One of my personal favourites off the CD has got to be "
Are You Ready 2 Love
" a mostly instrumental track with those hyper electro beats, infectious guitars, Moroder-esque vocoder effects and a bit of elegant, 21st century disco-funkiness. If this doesn't get you up, you might need to get your boogie-senses checked. Other choice tracks include the outstanding "
Dream Lover
," "
Exiled!
" (which you can download from their
Myspace
), "
Here Come Cowboys
" and "
Riviera On The Moon
".. I could go on but to put it plainly, the whole CD is excellent. If you're curious to hear more of them, check their
Myspace
. Better yet, go and
buy their CD
* (seven tracks, all of 'em quality) at CD Baby..
Also, just for the record: their CD is almost entirely DIY, self-produced and marketed. Given that, it's quite a testament to their abilities that their record sounds as good as it does. It's hard to believe these guys haven't been snapped up by a label yet, but when you're this good, I suppose it's only a matter of time. In the mean time, God bless Myspace.
PURCHASE:

CODEBREAKER - EXILED! CD
CD BABY*

LINKS:
CODEBREAKER'S OFFICIAL MYSPACE
CODEBREAKERMUSIC.COM
BRIGHTEST YOUNG THINGS: CODEBREAKER (APRIL 18, 2007)
ONMILWAUKEE.COM: CODEBREAKER IS EXILED! (MARCH 14, 2007)
MKEONLINE.COM: CODEBREAKER DECRYPTED (NOVEMBER 24, 2005)
CODEBREAKER VIDEO INTERVIEW PART ONE | PART TWO
CATEGORIES:
NUDISCO