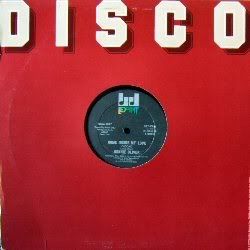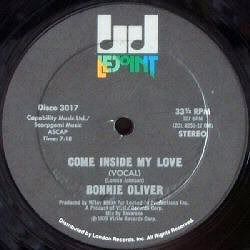 Bonnie Oliver - Come Inside My Love (Vocal) (1979, LeJoint/London)
Bonnie Oliver - Come Inside My Love (Instrumental) (1979, LeJoint/London)
Bonnie Oliver - Come Inside My Love (Vocal - pitched down)
Bonnie Oliver - Come Inside My Love (Instrumental - pitched down)
That's the invitation on this awesome record from '79, which I picked up on 12" some four years ago now.. I wasn't even really looking for 12" singles at the time (I felt albums were a bigger bang for my buck back then), but this still remains one of my favourite finds so far..
I personally can't get enough of the desperately dark, seductive feel on this record. That feel is evident right from the beginning when those congas, handclaps and supple, galloping bass come in and cut right to the chase. Coming in right after are the real big hooks on the record: that glistening, spacey synthesizer along with that intense interplay between the strings and horns. That call/response interplay between those last two elements are probably the biggest parts of the record which they work to great effect on here, gradually escalating their power and intensity as the record progresses. Towards the end, their combined sound practically bounces out of the mix like a swift, sonic kick in the rear.. Put all that together with those trippy synthesized sound effects shooting and sliding all over background (which are even more prominent on the instrumental), the penetrating call of those backup vocals and of course Bonnie's vocals right over top phasing in and out of the mix, stretched and echoed all over the place, singing out her seduction in that understated, yet powerful style.. The result is a compelling mix of something sexy and just a little bit sinister... Deep, dark and delicious in other words (just the way I like it)..
Another one of the things which fascinated me about this record were the bits of mystery which (quite appropriately) surround it.. For the most part, not a whole lot seems to be known about this record or some of the people involved in it. The singer
Bonnie Oliver
doesn't seem to have too many traceable credits on the 'net, although she is listed as a backup vocalist on
The Originals
' "
Come Away With Me
" (1979, Fantasy) LP, which I have here, so I'll assume that she might have been primarily a session singer.. As far as the producer,
Wiley Hicks
goes, not much seems to be known about him either, but judging from the listings on
Discogs
he seems to have a smattering of credits on some fairly obscure projects, namely: this one,
Ednah Holt
's
first single
for
West End
and a 12" by an act called
Holt '45
. Not sure if he is the same Wiley Hicks behind all these
country line dancing videos
, but it would be rather interesting if he was..
On the other hand,
Tom Savarese
, the man who mixed this record was one of the most well-known and prolific DJs and mixers in the disco scene at the time. Some of his biggest mixes include
Chic
's debut, "
Dance, Dance, Dance
,"
Macho
's "
I'm A Man
," and "
Love Disco Style
" by the
Erotic Drum Band
to name a few.. Given those credits, the powerful, hard-hitting style of this mix (right up there with his mixes of Chic and Macho, in my opinion) seems to have his stamp all over it.. In addition to his mixing credits, he was awarded by
Billboard
Magazine a couple of times on account of his DJ skills and was also a key player in the establishment of the
Disconet
service.
DJ's Portal
has a much more complete run-down of his history and accomplishments than I could give here, along with some quotes from Tom Savarese himself, so check out that link sometime...
Along with Savarese, the other notable name on the record is it's writer,
Lonnie Johnson
, who would estabish the
Scorpgemi
label. On Scorpgemi, Johnson along with disco auteur extraordinaire
Patrick Adams
would be behind the 1982
Shades of Love
classic "
Keep In Touch (Body To Body)
," featuring
Meli'sa Morgan
on vocals in what is probably her earliest outing. Additionally, not sure whether it came before or after this one, Johnson also produced a version of "
Come Inside My Love
" (which I haven't heard yet) in 1979, under the Shades of Love banner featuring another up-and-comer,
Lisa Fischer
on vocals.
As much as I think this is a great record, "Come Inside.." was probably not the type of record that would have topped any charts. Nevertheless, it's one exemplary piece of the deeper, darker, underground side of disco which is ripe for rediscovery..
Just in case some of you are wondering about the pitched-down versions.. I decided to put those up, since believe it or not, that was the way I had originally discovered the record. My cheap turntable at the time was so beat down it would play records a touch too slow.. After I finally realized that and heard the record at the proper speed, I personally thought the pitched down version (very slightly, I might add) brought out the intensity of this track a lot better.. So thanks to the pitch control on my newer (though still old, but much better) turntable, both are up here in case anyone else out there agrees..
LINKS:
BONNIE OLIVER - COME INSIDE MY LOVE 12'' @ DISCOMUSIC.COM
BONNIE OLIVER - COME INSIDE MY LOVE 12'' @ DISCOGS
WILEY HICKS @ DISCOGS
LONNIE JOHNSON @ DISCOGS
TOM SAVARESE @ DJ'S PORTAL
TOM SAVARESE @ DISCOGS
SHADES OF LOVE @ DISCOGS
CATEGORIES:
MINI DELIVERIES